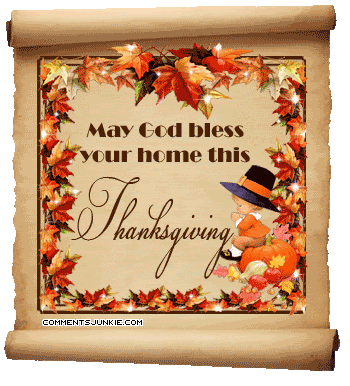 Thanksgiving Comments
The sweet potatoes are done the fresh homemade dinner rolls are finished. My dear husband all ready had a pan full of hot rolls with melted butter and jam. He was enjoying himself greatly. I made a extra pan of sweet potato last night my dh does not like sweet potato but he was enjoying the pan of them last night.
This year the sweet potato's are even more special since my 12 yr old son grew them from his Mimi's little sprouts of potato's from last year. He has nurtured them all year just for today. He had the privilege of digging them up. Jon washed them for him and then yesterday we cooked up about 8 cups worth. The boys seem to think they will get their Aunt Arla to actually try them this year. Good luck with that one, let you know if they succeed with this goal.
It is always a great feeling when everyone is happy. Just as
JoyfulHomeMaker
said in her post over pies. Make a pie see how happy your home becomes.
For a laugh go here to
Motley Moms
. I was laughing in between the uh my's. I still have know idea what hangover is..........
Enjoy and have BLESSED DAY!!!!!!!!!!!!!!